NEW RELEASE BLITZ: Time Turns by C.B. Lewis (Excerpt & Giveaway)

Title: Time Turns
Series: Out of Time, Book Four
Author: C.B. Lewis
Publisher: NineStar Press
Release Date: September 16, 2019
Heat Level: 3 – Some Sex
Pairing: Male/Male
Length: 123500
Genre: Science Fiction, LGBT, science fiction, gay, transgender, British, anxiety attacks, time travel, super nerdy Scottish genius
Synopsis
As a consultant analyst for the most technologically advanced firms in the country, Danny Ferguson knows he's seen a lot of crazy stuff, but nothing comes close to his newest position at the Temporal Research Institute, the world's foremost time travel organisation.
The corrupted piece of code Ferguson found on the TRI's closed network is a serious concern for Lysander O'Donohue, the director of the TRI. Unable to trust his own people—any one of whom might be the source—he's forced to put all his trust in Danny to solve the mystery of the corrupt code and find the identity of the enemy within.
But when an unexpected temporal gate opens, a straightforward code analysis becomes something a lot more complicated.
Excerpt
Time Turns
C.B. Lewis © 2019
All Rights Reserved
They said the veins of Danny Ferguson ran with coffee.
He told them to sod off as he downed his second espresso.
Cassandra snickered as she poured some milk into her own cup of tea. "Well, when you over-caffeinate and give yourself a heart attack and die, don't come crying to me."
"Ha!" Danny struck a dramatic pose, gazing into the distance. "I'm immortal!"
"You're a knob," Shiv said with a snort.
Danny ran his finger around the inside of his cup, catching the dregs, and licked them off. "Jealousy doesn't suit you, Shiv." He rinsed out the cup and set it down to dry. "Catch you at lunch."
"One day," Cassandra called after him as he headed towards the canteen door, "you'll take your full tea break like a normal human being."
Danny spun around. "And one day, you'll beat my stats and get my bonus!" he called back and then widened his eyes in mock shock. "And one day, pigs'll fly!"
"Knob!" Shiv repeated.
Danny grinned as he headed out into the hall.
The caffeine had kicked in already, giving him a nice buzz. He didn't need it, but sometimes, a jump-start didn't hurt when he was stuck on monitoring all day. It was the dullest part of the job, but he could hardly be on coding every day. It was only fair to give everyone else a chance to catch up.
He'd been working with IDD—International Digital Development—for nearly a decade, straight out of his PhD. They needed people with a good eye for coding and anomalies and had gotten his attention with a stupidly high salary that had exceeded all expectations.
Still, they couldn't say he wasn't amazing at his job.
He stopped at the door and waited for the scan to sweep his face, then held his fingertips over the sensor, tapping the pattern for the week. The door slid open, and he wandered into the sprawling office he shared with three other coders.
"What'd I miss?"
Ravi glanced up through the projection in front of him, raising his eyebrows. "In the ten minutes you were gone?"
"Rav farted," Ekaterina said, pausing her own screen. "So much excitement."
Ravi rolled his eyes at her. "Nothing. You missed nothing."
Danny wasn't surprised.
Monitoring could be bloody tedious. His quad had the week's rotation on monitoring: a full day's shift of sitting and auditing code for external clients, assessing for glitches and anomalies overlooked by the computers. Sometimes, there could be minor problems. Once in a while, it was a bug that could—if left alone—start a chain reaction and break everything. Mostly, it meant sitting on your arse all day, admiring the amazingly complex codes some of their clients had come up with.
He settled in his seat, reclining the chair back as far as he could.
The chair had been one of his greatest triumphs.
When he started working at IDD, he had one of the usual workstations with a standard ergonomic monstrosity of a seat—the 'in' thing for any office. Maybe they were scientifically good for you, but Danny hated it. He'd end up on his feet all day, pacing as he scanned the code, and, apparently, distracting people.
He had to sit, his manager had insisted because everyone else needed to concentrate too. Danny had agreed, and he'd ordered a better chair, paid for by himself. The fact that he chose the biggest, comfiest reclining armchair in the building was a minor technicality.
His boss had hit the roof about it, but Danny cheerfully argued the semantics. It ensured he worked his best; his numbers had shot up since he'd gotten it; no one was being distracted; and he'd paid for it out of his own pocket, so no harm done. He ended up winning the right to keep the chair.
Thus began a long and glorious rivalry with his line manager.
He pulled the projection of his latest project up in front of him, wrapped it around the front of the chair, and set it scrolling. This particular vast batch came from some anonymous external client. He'd worked with their stuff before. Once you were familiar with a particular style of code, you didn't easily forget it.
Sometimes, they were told who the clients were.
Most of the time, they were left in the dark.
They could make guesses, but it was anyone's money because unless some big news story broke as a result of something they'd uncovered, the likelihood of finding out the client's identity fell somewhere between slim and nil.
Danny put on some Rachmaninoff in his headphones and settled back to focus on the code whirling around him. Beautiful, complex, and intricate with layer upon layer folded into it, whoever had written it had to be doing some incredibly hi-tech stuff.
Purchase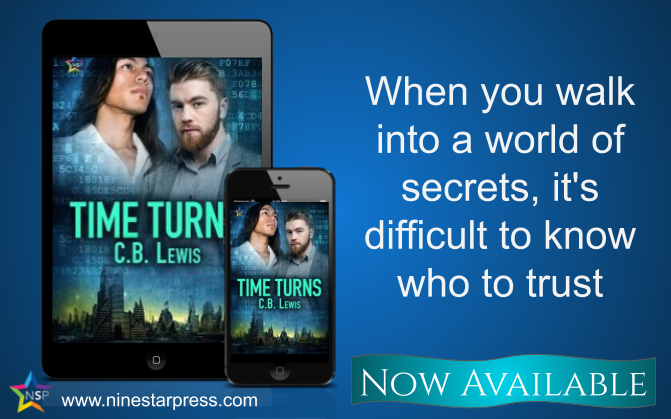 Meet the Author

C.B. Lewis is small, Scottish and writes pretty much anywhere, any time. She loves to travel and tends to bring home at least four new plot bunnies from every trip she goes on. She's very excited to continue the adventures of the Out of Time series.
Giveaway
a Rafflecopter giveaway
https://widget-prime.rafflecopter.com/launch.js