NEW RELEASE BLITZ: Through The Inferno by Jessi Noelle(Excerpt & Giveaway)

Title: Through the Inferno
Series: The Inferno, Book One
Author: Jessi Noelle
Publisher: NineStar Press
Release Date: September 16, 2019
Heat Level: 3 – Some Sex
Pairing: Male/Female
Length: 88100
Genre: Contemporary, LGBT, transgender, firefighters, nurse, burn patient, revenge, #ownvoices, hurt/comfort, medical personnel, corruption
Synopsis
Firefighter Jason Merone was severely burned and injured when the building he and his best friend were in collapsed as they were rescuing a young child. Depressed and nearly inconsolable, it's not until his home care nurse, Zoe Calder, spots the telltale signs of severe depression and confronts him that Jason finds the will to live.
A few weeks later, Zoe is sexually assaulted by a man she meets through a dating app, and when he's caught and her transgender identity is revealed, Jason's transphobic mother makes sure she loses her job.
Jason and Zoe stay in touch, as they've built a close friendship, but when Zoe's home is torched, she runs for her life, leaving Jason feeling bereft from the loss of what he knows could be a lasting relationship. Jason learns that Zoe's troubles aren't over, and he must work to identify who's behind it all in time to save her.
Excerpt
Through the Inferno
Jessi Noelle © 2019
All Rights Reserved
Jason Merone held three aces to go along with the two eights on the board. Dead man's hand, he thought, pondering the best way to string along the other guys in the pot for the most chips. The game was Texas Hold'em, and he was a great white in a guppy pond.
The Sunday night poker game at Station 7 of the Biloxi Fire Department was winding down. Dinner was devoured and cleaned up, letting the crew relax until the shift's end at 6:30 in the morning. Weekends came with no scheduled duties other than cleaning the surrounding housing area of the fire station. The only call they'd responded to was a fender bender on the exit ramp of the interstate, fortunately with no injuries, making a quick and easy run.
"Too rich for me," Captain Engmeyer said after Jason raised, folding his hand and stepping away from the table with a muttered, "Gonna drain the main vein."
Down to two and time to show. He flipped his cards, showing the nuts.
"Mutha fuck!" The red-faced veteran opposite him yelled as he slapped his beaten flush to the table. Everyone at the table laughed. "Shit, Truffy. I thought for sure I had you beat, the way you were betting."
"Hell, Vince," Jason retorted to the veteran of four years. "You oughta know by now the house always wins." He grinned crookedly, pulling the chips, worth about twenty bucks, over to his side and adding them to his pile.
His phone chirped before the next hand, and he glanced at the screen. Jenna. Not a good time, love. He let his girlfriend's call go to voice mail and shook his head at the expectant faces at the table. "What? I'll talk to her later. Deal, deal."
It only took another twenty minutes to finish collecting the rest of the chips from the guys.
The klaxon sounded just before three a.m. Jason woke, instantly alert. Around him, the other guys threw off covers and made a mad dash to the restroom. No one wanted to be stuck on a scene for hours while needing to pee. He double-timed to the truck, wiping the crusty sleep out of his eyes.
Jason was almost to the driver's side door before he remembered; Vince, newly certified and soon to be officially promoted to pump engineer, was taking driving duties this shift. His abrupt change of direction caused him to smack into Vince's shoulder.
"Whoops, sorry, dude. Forgot you were driving today."
"Naw, Truffy, you're good." Vince opened the door and slid behind the wheel.
For Jason, putting on turnouts was a ritual, a centering moment of zen and muscle memory before charging into chaos. He threw the Nomex hood over his head as he slid his feet into the boots. In a swift movement, he grabbed the suspender straps to bring the pants up to his waist and shrugged them over his shoulders, then swung his arms into his coat. The faint smell of sweat and old fires wafted around him as he fastened the pants and jacket shut. Helmet, gloves, and air tank would be added while en route. Inventory: check, check, check. Ready to rock!
Ritual complete, Jason swung into his seat, back against the driver's compartment. Dave, his best friend, crashed into the seat facing him, grumbling at being woken up. Dave sucked at poker, busting out early and going to bed. Although he only did the bare minimum around the station, no one outworked him at a scene, and there was no one Jason would rather have covering his ass in a fire.
The Engine pulled out of the station within two and a half minutes. Up front, the captain radioed the en route confirmation.
"Copy en route, Engine 7," the dispatcher said over the engine and siren noise. "Responding to River Oakes Manor at 1787 Winding Way Road, between Stanton and Hollyberry Streets, for reports of fire involving multiple apartment units, possible persons still inside."
Faces went grim as the team absorbed the information. "Police unit en route confirms heavy smoke," the dispatcher continued her litany. "Engines 3, 5, and 8 also dispatched with Ladder 2 and Ladder 9. EMS and PD confirmed en route. Time is 02:57."
Captain Engmeyer shifted to face the crew in the back, steel-gray eyes serious, his mouth drawn into a grim line. "Okay, guys, this is gonna be real. We'll be first on scene. Jason and Dave, I want you on the first line in. Get in there, knock it down as you go, clear as many units as you can. Scott, Billy, I want you guys to set up an attack line near their point of entry. I'll direct the incoming engines until the battalion chief arrives on scene. Let's stay safe and get it done!"
Jason looked back over at Dave, whose game face likely mirrored his own, and noticed his focus fixed outside the window. He turned his head in the direction Dave stared and saw the orange glow of flames on the horizon. Dave shifted his attention to Jason, and held up a fist. "Let's kick the tires and fight the fires!" they said in unison as they bumped knuckles, a ritual dating back to when they were freshmen on the high school football team. A few practiced flicks secured the air tanks to their backs, followed by the facemasks and helmets. They pulled the bulky gloves on last. Dave unhitched the Halligan tool, a round metal bar with prongs on one end and flat scoop on the other, and held it vertically between his legs, thrumming a nervous beat against it with his leather-clad fingers.
Final check¾Jason did one last inventory¾good to go. The muscles in his legs began to twitch in anticipation of the looming combat. No matter how many fires he fought, each one set his heart pounding like the first.
Upon arrival at the scene, they were slowed by the sheer number of gawking civilians crowded outside in various degrees of panic. Vince finally maneuvered the engine to the sweet spot, close enough to set up operations, but not too close in case the building collapsed.
Time to go to work.
Purchase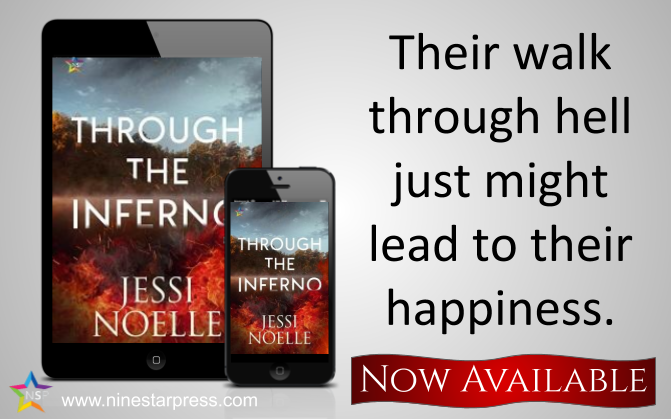 Meet the Author

Jessi Noelle was born in South Mississippi, where she worked as a zookeeper and later as a firefighter. She is transgender with two sons, and currently lives in Nashville, TN.
Through the Inferno is her first novel. She is an alum of the inaugural #DVPit, a twitter event where marginalized authors pitch their books to agents. She is currently working on another book set in the The Inferno universe.
Giveaway
a Rafflecopter giveaway
https://widget-prime.rafflecopter.com/launch.js