FIRST LINES FRIDAY 56: Was I Okay?
First Line Fridays" is by Hoarding Books and is all about the first line of a current/upcoming read. Friday 56 is a meme hosted by Freda's Voice, where you turn to page 56 (or 56%) in what you're reading a find a snippet that jumps out at you. The idea to combine the two came from Kat @ Here There Be Dragons"
I found this meme on The Writerly Way. And I'm doing this on a Thursday just to be difficult.
---
FIRST LINE
Heartbroken and alone on my honeymoon—just like I'd always dreamed. No number of tropical cocktails was going to make it any better.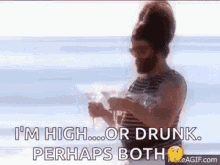 ---
56% of 296
I entirely expected to be called to task for drawing crowds of photographers to an island that was designed as a safe haven from that kind of attention. For passing Jase on to him and not looking back. Hell, for not performing at the Tahiti for the last week as I was supposed to.
Instead, when we got outside, Adrien squeezed my shoulder and watched me with concerned eyes. "Are you okay, my boy?"
"Okay?" I parroted, probably sounding like a jackass. Just, worry had been the last thing I'd expected from him. When he nodded and continued to stare at me in concern, I tried to get myself together.
Was I okay?
I'd had a real, genuine talk with Jase, and we'd ended things on a much better note than him throwing my suitcase in a pool.
I'd just spent multiple days holed up in a sweet little bungalow with catered meals and a beautiful, charming man whom I would happily spend every day with.
That gave me pause. Every day?
---
BOOK REVEAL

When his fiancé leaves him at the altar, Andrew Wellman runs straight to Bliss.
After spending the last year of his life busting his butt on the new resort off the south coast of Florida, all Andrew has to do is stick the landing—a gorgeous wedding and a honeymoon to blow the socks—and everything else—off his groom-to-be. But when he finds his fiancé buried deep not in wedding preparations but in his best friend, Andrew calls the whole thing off and cashes in that plane ticket for a solo honeymoon.
Rock star Cord Fabien's whole life blew apart when his band broke up.
Now, he owes his label a solo album, but all he wants to do at the new gay resort run by the mysterious billionaire Adrien Bliss and is hide from the paparazzi and lick his wounds. But when one sad interior designer catches his eye, Cord finds the inspiration to make beautiful music again.
Two men, completely adrift, find in each other the strength to pursue their passions. But Bliss can't last forever, and the lives they've left behind are waiting to shatter a romance that bloomed in paradise.
---
What first lines grabbed your attention this week?