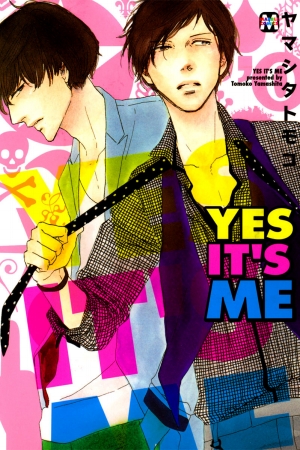 Yes It's Me – Yamashita Tomoko
A collection of short stories.
1) Love Dancing Beneath My Eyelids
College student Numakami has known for a long time that his classmate Mahara is in love with him. But Mahara is pure, innocent – and still a virgin. For some inexplicable reason, this makes Numakami feel annoyed at being the object of his affections.
2) She's Missing
Yanagi is in love with Kobayashi, who can't seem to stop talking about Adachi – a girl in their class. What will become of these three teenagers and their complex relationship?
3) Minun Musiikki
A quiet pianist and an obnoxious, outspoken cellist often find themselves alone in the music room together…
4) Yes It's Me, (5) Yes It's You, (8) Yes That's It
The story revolves around Toma, who is head-over-heels in love…with himself! However, so is everyone else around him; and he knows that his business partner and old friend Enoki is no exception. Toma doesn't blame him — after all, he is only the most brilliant, beautiful, and all-around perfect person to ever walk the face of the Earth! Who wouldn't fall for him? Weirdly enough, Enoki is convinced that Toma returns his feelings. But they should both know by now that there's no one he loves more than himself…right!?
6) Loathe!
"I love you. And I know exactly what you love and what you hate. But regardless of how much I love you or how much time we spend in each other's company, there are things I loathe about you as well…"
7) Dreams Unfold at Night
A serious story about transsexuality and gender issues.
Yamashita Tomoko-sensei once again pulls off her signature brand of unconventional BL stories, this time on the theme of "You're in love with me, aren't you?"
Love Dancing Beneath My Eyelids: A nice contrast between the world-weary and experienced vs the pure and innocent. Guess who gives in first.
She's Missing: Bitchy, bitter boy jealous over his friend's determined search for a missing girl his friend wants to sleep with. We can do without the rape comments. My least favorite of the bunch
Minun Musiikki: An obnoxious cellist about to be divorced getting in the face of a pianist he knew was in love with him. Quite frankly, I don't trust the cellist.
Yes It's Me+Yes It's You+Yes That's It: One of the best friends-to-lovers stories I have come across with!!! Living for Enoki's completely matter of fact handling of the narcissistic Toma. ♡ ♡ ♡ ╰(*´︶`*)╯ ♡ ♡ ♡
Loathe!: A sketch of a love-hate relationship between two men. I wouldn't mind reading the full story.
Dreams Unfold at Night: This was more educational than romantic. I did not get the ending.