REVIEW: Mainly By Moonlight by Josh Lanyon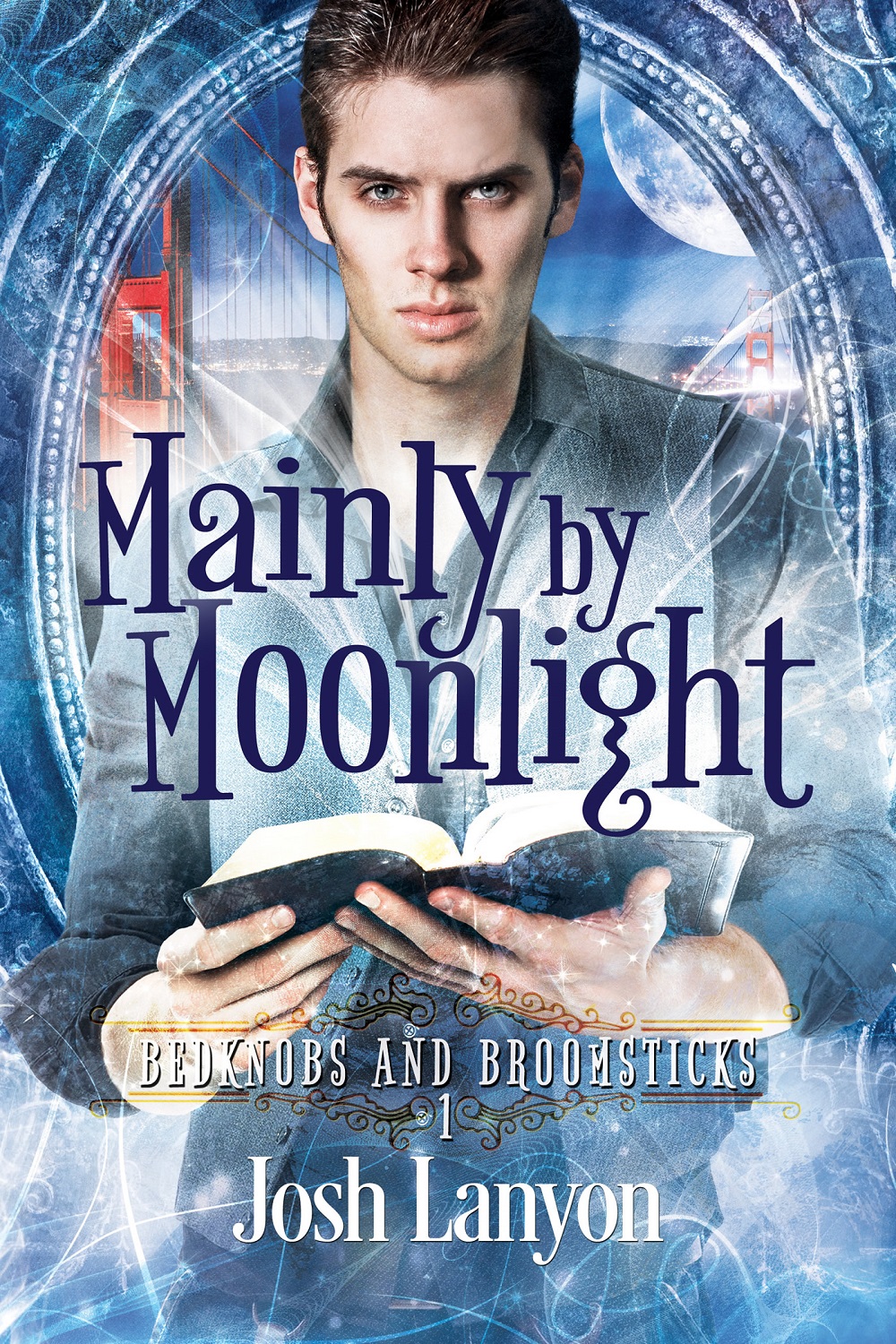 Bedknobs And Broomsticks: Mainly By Moonlight – Josh Lanyon
A gay high-society wedding. A stolen book of spells. A love-threatening lie. Can a witch avoid a murder rap without revealing the supernatural truth?
Cosmo Saville guiltily hides a paranormal secret from his soon-to-be husband. Thanks to a powerful love spell, uncertainty threatens his nuptial magic. But when he's arrested for allegedly killing a longtime rival, he could spend his honeymoon behind bars…
Police Commissioner John Joseph Galbraith never believed in love until Cosmo came along. Falling head over heels for the elegant antiques dealer is an enchantment he never wants to break. So when all fingers point to Cosmo's guilt, John races to prove his fiancé's innocence before they take their vows.
As Cosmo hunts for the real killer among the arcane aristocracy, John warns him to leave it to the police. But with an unseen enemy threatening to expose Cosmo's true nature, the couple's blissful future could shatter like a broken charm.
Can Cosmo find the lost grimoire, clear his name, and keep John's love alive, or will black magic "rune" their wedding bells?
Mainly by Moonlight is the first book in the sexy Bedknobs and Broomsticks romantic gay mystery series. If you like spellbinding suspense, steamy fun, and a dash of paranormal, then you'll love Josh Lanyon's charming tale.
---
My 3.5-star streak continues with Josh Lanyon's latest offering, Mainly by Moonlight, book 1 of Bedknobs and Broomsticks. With her nifty unlikable-characters-but-made-me-commit-to-the-series-anyway trick, Lanyon shakes up her usual murder mystery fare with magic, witches and antiques.
The Bedknobs and Broomsticks world has magic but not heavy on spells. It's built along the lines of Practical Magic and Bewitched so it has a cozy feel to it. Whatever cutesy nose twitches it has is tempered by unideal character traits and false pretenses. There is a good balance between these elements though I needed to consciously put myself in the mindset that the flaws are part of the charm a.k.a. not ding the book for it. The unconventional set-up made the romance more interesting but admittedly, an acquired taste.
Cosmo Saville is a witch and not just any witch. He's a veritable witch royalty. His mother is the Duchess, heir to the position of Crone. He is engaged to be married to the police commissioner, John Joseph Galbraith, whom he met two weeks ago. It was a whirlwind affair bought about by a lovespell. On top of their controversial romance, witches keep their identities secret by necessity, which means Cosmo had to constantly lie to cover up his suspicious endeavors. Not at all auspicious.
Since Cos is an antique dealer by trade, he tended to namedrop antiques and art pieces I'm too lazy to google so some references he's trying make were lost on me. It did not significantly affect my enjoyment of the story. However, the jury's still out on him. I didn't like the lying part but he did insist on having the lovespell removed so that counts for something. I am also convinced he genuinely loves John who explicitly told him he hated liars. Uh-oh. What now, Cos?
John, I'm more inclined to. Was it just because of a lovespell? His mysterious resistance to Cosmo's Jedi mind tricks argued otherwise. I am willing to be swayed because I have inklings as to where this is heading. For me, the commish was the biggest mystery of all. He is older and, in many ways , reminded me of Sam Kennedy from The Art of Murder. But what do we really know about the man? Almost nothing as far as and I can tell. I doubt Cosmo truly knew his fiance. I'm itching to find out what's behind the hot/cold persona.
Mainly By Moonlight is very much a mishmash of a series opener. I am invested enough to see things through but there were times where I'm just there for the ride which was what made me deduct some stars. I wasn't exactly bored but the murder mystery wasn't something that actively engaged my attention either. The victim barely registered as a person. The other characters had passable personalities. The ones that stood out were Cosmo's mother, his best friend and John's little sister who I think will be playing an even bigger role in the coming events. There were no concrete resolutions yet. Threads were left open for the next books. Characters hinted to be the main villains flee the scene as soon as they were introduced. Them getting away with it made me want to see some witch-on-witch showdown. Keeping my fingers crossed for that.
Happily, despite being held at gun point by a crazed witch, the wedding did happen. Vows were exchanged, promises were made, feelings were laid bare. Of course, Cosmo conveniently forgot to mention one important detail. I'm pretty sure this little omission would come biting him in the ass. When truths are exposed and trusts are broken, will there be enough love left to keep their marriage alive?
P.S.
Josh Lanyon books here
Rating:
3.5 Stars – that place between like and love
Soundtrack: I Put A Spell On You
Artist: Screamin' Jay Hawkin
Album: At Home With Screamin' Jay Hawkin