NEW RELEASE BLITZ: Bashed by Rick R. Reed (Excerpt & Giveaway)

Title: Bashed
Author: Rick R. Reed
Publisher: NineStar Press
Release Date: August 3, 2020
Heat Level: 3 – Some Sex
Pairing: Male/Male
Length: 69800
Genre: Contemporary, LGBTQIA+, grief, revenge, men over 40, romance, contemporary
Synopsis
It should have been a perfect night out. Instead, Mark and Donald collide with tragedy when they leave their favorite night spot. That dark October night, three gay-bashers emerge from the gloom, armed with slurs, fists, and an aluminum baseball bat.
The hate crime leaves Donald lost and alone, clinging to the memory of the only man he ever loved. He is haunted, both literally and figuratively, by Mark and what might have been. Trapped in a limbo offering no closure, Donald can't immediately accept the salvation his new neighbor, Walter, offers. Walter's kindness and patience are qualities his sixteen-year-old nephew, Justin, understands well. Walter provides the only sense of family the boy's ever known. But Justin holds a dark secret that threatens to tear Donald and Walter apart before their love even has a chance to blossom.
Excerpt
Bashed
Rick R. Reed © 2020
All Rights Reserved
The night had turned cold while they were in the Brig, one of Chicago's oldest and most infamous leather establishments. A strong wind out of the north had blown away the cloud cover that allowed the city of Chicago to retain a little Indian summer heat this late October night. With the wind, the temperature had plunged nearly twenty degrees, from a relatively balmy sixty-two, down to the low forties. But the wind had also revealed a sprinkling of stars, visible even with the ambient light from downtown. And the moon had emerged, almost full, lending a silvery cast to North Clark Street.
Donald wrapped his arms around Mark as they headed south on Clark, toward the side street where they had left their car. Even with his chaps, biker jacket, and boots, Donald felt the chill bite into him, vicious. He couldn't imagine how Mark was faring, wearing only a T-shirt and jeans. He'd get his boy into leather one of these days! It was just past three a.m., and the far north side neighborhood called Andersonville, once the province of Swedes and working class folk, and now the home of yuppies and gays, was quiet. A lone taxi headed north up Clark, looking for fares. Someone even unsteadier on his feet came out of the adult bookstore ahead of them, blinking rapidly, and looking around, perhaps for more excitement than he had found in the bookstore. Donald thought that, once upon a time, he could have been the sad, singular man emerging from an adult bookstore while the rest of the world slept, but things had changed since he had met Mark six months ago.
"I feel almost—almost—like we're the only two people on earth," Donald said to Mark, drawing him in close for a sloppy, beery kiss. When he pulled his mouth away, he flashed the crooked grin he knew entranced his boyfriend and completed the thought with, "And that's fine by me."
Mark grinned back, then rubbed his upper arms. "It's not fine by me. Not when it's this frickin' cold! Let's get home!"
They wrapped their arms around each other to ward off the cold, much as they had done the night they met, back in March, in the same leather bar. And once again, they were just a bit boozy and flushed with need for each other. Tonight, the weather outside may not have been as frigidly cold as it had been last winter when they had first laid eyes upon one another, but the heat and electricity passing between them was still burning as brightly as that very first night.
Donald stopped again in the middle of the sidewalk, pulling Mark close and planting a kiss on his cheek. There was no one around, and in this neighborhood, such displays really were nothing to worry about, Donald thought. Hell, most anyone they encountered would either be sympathetic or jealous. He nipped at Mark's earlobe and whispered, "I love you, you know that?" He paused to breathe in Mark's scent and to nuzzle his nose in Mark's blond curls.
And Mark stopped, right there in the middle of Clark Street, on an early Sunday morning, and placed his hands on Donald's shoulders, so he would stop walking and so he could look right back into Mark's penetrating stare. "And I love you, Donald." He gave a small grin and looked down at the ground for just a second, almost as if he was embarrassed, and then said, "And I always will. This is a forever thing."
Donald felt a rush of warmth go through him at the exact same moment a harsh wind, full of chill and with the smell of dark water, glided east from over Lake Michigan. He pulled Mark close and kissed him full on the mouth, his tongue lifting Mark's and doing a little duel with it. Neither of them closed their eyes, preferring instead to stare into each other's rapt gazes. Just as they were breaking apart, they stiffened as the roar of a souped-up engine shattered the still of the night. The backfire issuing forth from the car's muffler made both men jump. They gave each other a quick glance, then laughed.
The car, an old maroon Duster that had been tricked out beyond good sense, taste, or fiscal responsibility, slowed across from the pair. Three shadowy figures moved inside. One of them rolled down a window, and a young male face, pale and marred by acne in the moon's light, emerged making a kissing sound, exaggerated and prolonged. Donald heard the other guys in the car laughing. He stiffened and felt a trickle of sweat roll into the small of his back, in spite of the chill in the air.
Just as suddenly as they had arrived, they roared off, leaving them in a wake of sour-smelling exhaust. But they did not leave without casting a parting shot out the window. "Fucking faggots!"
Donald shook his head, glancing over at Mark, whose young face was creased with worry. "Don't let shit like that get to you. They're idiots. And chickenshits… It's pretty easy to call names at people from a speeding car."
Purchase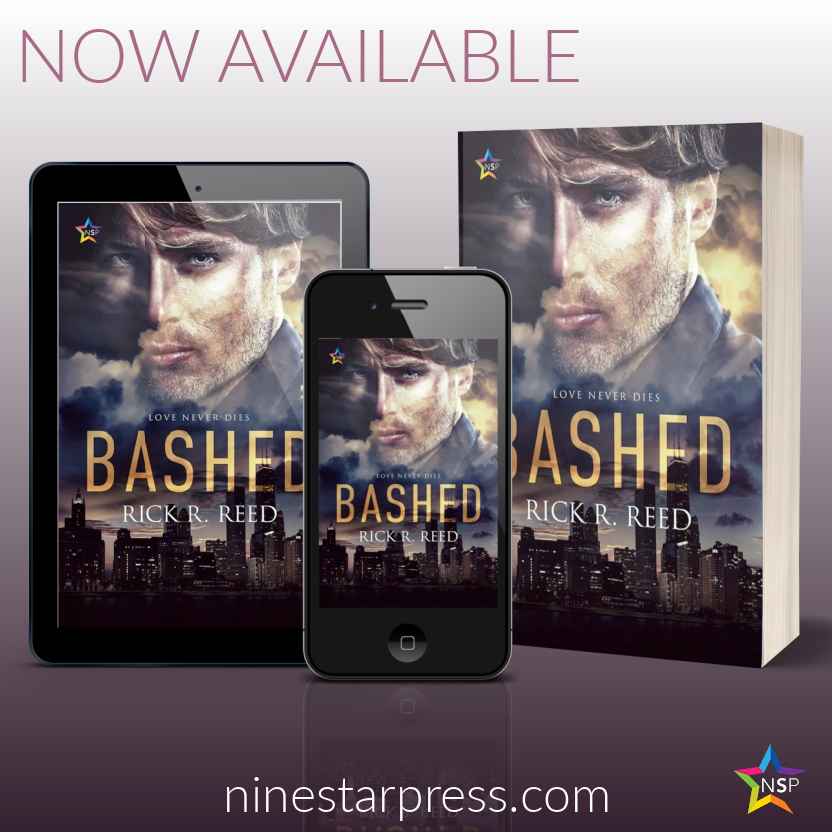 Meet the Author

Real Men. True Love.
Rick R. Reed is an award-winning and bestselling author of more than fifty works of published fiction. He is a Lambda Literary Award finalist. Entertainment Weekly has described his work as "heartrending and sensitive." Lambda Literary has called him: "A writer that doesn't disappoint…" Find him at www.rickrreedreality.blogspot.com. Rick lives in Palm Springs, CA, with his husband, Bruce, and their fierce Chihuahua/Shiba Inu mix, Kodi.
Giveaway