NEW RELEASE BLITZ: Boiling Over by Thea McAlistair (Excerpt & Giveaway)

Title: Boiling Over
Series: The Caro Mysteries, Book Two
Author: Thea McAlistair
Publisher: NineStar Press
Release Date: January 6, 2019
Heat Level: 2 – Fade to Black Sex
Pairing: Male/Male
Length: 73800
Genre: Historical, LGBT, gay, historical, mystery, cozy mystery, age gap, established couple, mental illness, anxiety, PTSD, private detective, New England
Synopsis
On the run from trumped-up murder charges, Alex Dawson and his boyfriend Sev settle in a small town in Vermont on the recommendation of Sev's mob-boss cousin Bella. Chickadee is so tiny that it has only one major employer in the depths of the Great Depression: Trask & Co. Maple Sugar Mill. It's a quiet place. That is, until Walter Trask is found in his own maple grove with his head smashed in.
Alex doesn't want to have anything to do with the death, but things get much more personal when Bella is falsely arrested. Determined to free her and even the scales, Alex scours the town for clues as to what really happened. He quickly learns that small towns have big secrets that people may be willing to kill for. And if that weren't bad enough, Alex and Sev's once-sweet relationship is turning bitter under the combined pressures of isolation, anxiety, and jealousy. Alex needs to find the true murderer quickly before Bella is turned over to the feds, or worse, Sev walks out of his life forever.
Excerpt
Boiling Over
Thea McAlistair © 2020
All Rights Reserved
When Sev first asked me to run away with him, he'd mentioned exotic places like India and Australia, warm countries far away from the seedy city we were living in. It had sounded romantic and wonderful, and when we finally left—well, fled—I had hopes of going somewhere like that. Instead, we ended up in Chickadee, Vermont.
Chickadee was a small town, about a half-hour drive from the Canadian border and about a six-hour drive from our old home in Connecticut. In all my twenty-three years, I'd never set foot in the countryside, and now there was all this empty space. Blue sky. Trees. Cows.
"Bella wants us to stay here?" I asked as I gaped at the maple forest flashing by the car window. "It's so…rustic."
"Well, just think, Alex," grumbled Sev, his faint Italian accent tinged with unease as he guided the rickety borrowed Oldsmobile over bumps on the dirt road, "it's better than the alternatives, yes?"
Considering the alternatives were dead and arrested for murder, he was right. Less than a month ago, I'd been living my dull life, writing during the day and serving as a bodyguard for the mayor in the evenings, and then all hell broke loose. Now nine people were dead, including my friends Martin and Donnie, and the corrupt cops wouldn't even think of hearing my side of the story. Targeting the big guy with a chip on his shoulder the size of New England was almost too easy for them.
"It's pretty here!" chimed Pearl from the back.
I twisted to look at her. She perched on the edge of the seat, her already-large eyes expanded in wonder. Her cat, Daisy, sulked in a metal cage next to her. I still wasn't sure it'd been the brightest idea to take a six-year-old on the lam with us, but it was too late now. At least she seemed to be enjoying the trip. And why wouldn't she? She wasn't the one running from murder charges.
"Bit different from the city, huh?" I asked, careful to keep my voice cheerful for her.
She nodded and returned to staring at the trees.
I slumped back into my seat, grateful she didn't seem to share my unease.
Sev nudged my arm. "Which road do I take?"
I straightened and peered out the windshield. We were coming up on an intersection, if a split of one dirt track into two could be called that. I scrambled to unfold the map I'd crumpled in my distraction. Sev's cousin Bella—the most notorious gangster in Westwick—had given us these directions and all our fake identification papers first thing that morning.
Why Bella had chosen Chickadee to hide us from the cops was a mystery. She hadn't given me a straight answer when I asked, only that she had friends there and Sev would be working with one of them. Most likely the location had something to do with the rum-running routes she'd controlled until about six months ago. While the end of Prohibition had cut the bottom out from under her main moneymaker, there were many other ways to make an illegal living, and why leave when she already had a foot in the door?
"Left," I said, tracing the hand-drawn line with my finger. "Looks like another mile and we reach town."
Sev obeyed, taking the left fork. The car turned in a wide arc around yet more trees. Both sides of the road were obscured by underbrush and shadow. Sev swore under his breath in Italian and slowed even more.
"They should clear this," he muttered. "Someone's going to get hit one day."
"Who's going to get hit?" I answered. "There's no one out he—"
Sev slammed the brakes as a figure darted from between the trunks. I jolted forward and got the wind knocked out of me as I smacked into the dashboard. Pearl screamed, tumbling into the back of my seat. The rattle of the cat cage almost drowned out Daisy's yowls.
Blinded by pain, I groped for Sev. "Everyone okay?" I gasped.
He grabbed my hand and squeezed. "Fine," he said.
Pearl wailed. I turned, ignoring the objections of my bruised ribs. She huddled in the space between the back bench and the front seat, clutching her wrist. My already-pitching stomach dropped. I'd brought her with us to get her away from all the pain in her past, and now here was more. I scrambled out the door and around the back to get her.
"You're all right; you're all right," I mumbled in an effort to convince myself my assurance was true. "Can I see?"
Pearl snuffled and presented her arm. Already her wrist was red and swelling. I held back the curses bubbling in my mind. In a flash of anger, I whipped around to see what jackass had done this.
To my surprise, I only saw a girl straddling a sturdy bike. She was maybe sixteen or seventeen, wearing men's dungarees and a gingham shirt. Freckles were splattered across her face, and ash-blonde braids draped down her back. She gnawed on her lip, her eyes huge with fear.
"I'm so sorry," she squeaked. "There's almost never anyone out here—"
"Alex?" Sev called. He sounded muffled. I looked at the driver's side door. He had gotten out and had one hand curled around the lower half of his face while the other scrambled in a pocket. "I think I might have been mistaken when I said I was fine." He pulled out a handkerchief, and I saw both his nose and his upper lip were bleeding.
Fear, anger, and unbidden memories tangled up in my mind, freezing my mouth in one slack-jawed position, keeping me mute.
Purchase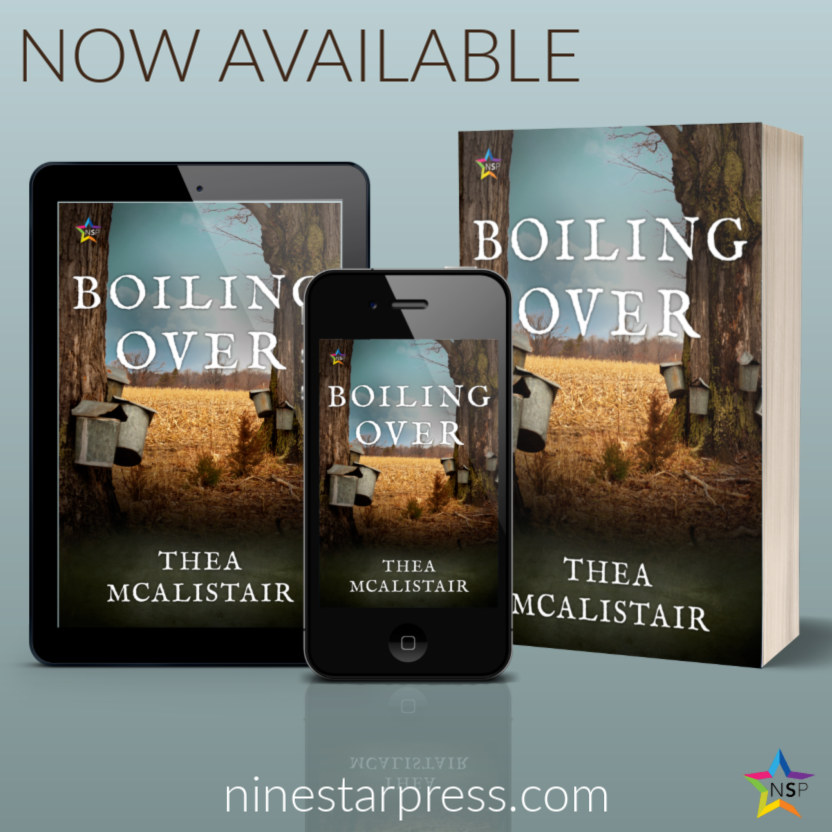 Don't miss Book #1 in the Caro Mysteries series, No Good Men, available from NineStar Press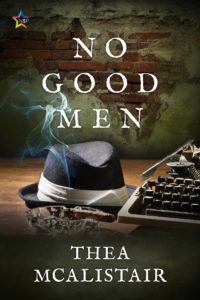 In 1934, almost everyone struggles to pay the rent, and Alex Dawson is no exception. To support his writing habit, he moonlights with his mentor Donnie as a bodyguard for the mayor. It's dull work, until the night a handsome, golden-eyed stranger catches his eye–and both his boss and his mentor are killed when his back is turned.
Jobless and emotionally adrift, Alex vows to find the murderer before the corrupt police can pin the blame on him. But he soon discovers he's in over his head. The golden-eyed stranger turns out to be a mob boss's cousin, and a suspicious stack of money in Donnie's dresser leads Alex to discover that his mentor and the mayor were involved in something more crooked than fundraising dinners and campaign speeches. As the death count rises amid corruption, mob politics, and anarchist plots, Alex realizes that the murders aren't political or even business. This is the work of a spree killer, and Alex and his new boyfriend are the only ones who can stop them.
Meet the Author

Thea McAlistair is the pseudonym of an otherwise terribly boring office worker from New Jersey. She studied archaeology, anthropology, history, architecture, and public policy, but none of those panned out, so she decided to go back to an early love – writing. She can often be found muttering to herself about her latest draft at completely inappropriate times.
Giveaway
a Rafflecopter giveaway
https://widget-prime.rafflecopter.com/launch.js