THE BOOKISH ADVENTURE TAG: Portland, Oregon (Irregulars Ver.)
Rules:
Imagine that you are an intrepid literary adventurer- braving the harsh bookish wilderness, traversing jungles of pages and slashing through vines of words. Where in the vast world of books would you go?
Write about one place mentioned in a book you wish you could visit and why.
List 3-5 things that you would do there.
Mention which souvenirs, if any, you would bring back with you.
Then tag some more literary explorers and please link back to the creator (Umairah @ Sereadipity) so I can see all of your adventures!
---
MY DREAM BOOKISH DESTINATION:
I want to visit Portland, Oregon in the Irregulars world. I love the Irregulars Anthology and Nicole Kimberling's Grilled Cheese and Goblins which is set in the same world.
The Irregulars is about the NATO Irregulars Affairs Division (NIAD), which is a secret organization that police relations between the earthly realm and the other worlds. Their special agents are either humans, magical creatures or combination of both. And they get into all sorts of trouble. So you got magic, mayhem and all the fun stuff that goes with it.
I keep hoping the authors would write more stories about this.
---
THINGS I WOULD DO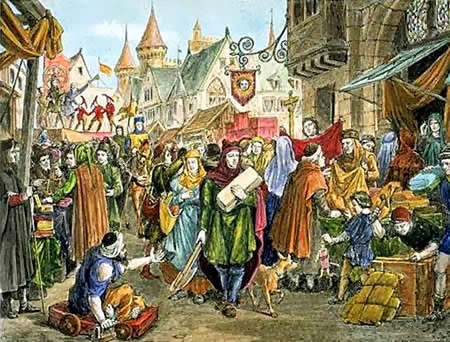 Shop at the Goblin Market. Keith and Gunther will be my tour guides. Eat at a restaurant Keith recommends and try that flaming kebab that Gunther likes.
Visit the NIAD headquarters and meet the other agents. Tag along in their investigation.
Attend that notorious famous cookie-making Christmas party. Drink eggnog (never had eggnog before). Eat cookies. Persuade Henry to part with some pixie dust.
Death metal karaoke night with the goblins. 
Try the portals to other magical realms. Who knows where I end up.
---
SOUVENIRS
Random magical knick-knacks from the Goblin Market. Christmas cookies and Gunther's cookie recipes (I don't think the trans-goblin can be talked into parting with one of his precious cookie cutters). Pixie dust if I'm lucky.
---
This kicks off my first bookish adventure. I hope I can visit the real Portland, Oregon someday.
Christmas here starts in September. Let's get into the spirit and ring in the season goblin style.